This must be a resinl work of epic proportions-a lamp made out of a Second World War soldier's helmet and bayonet!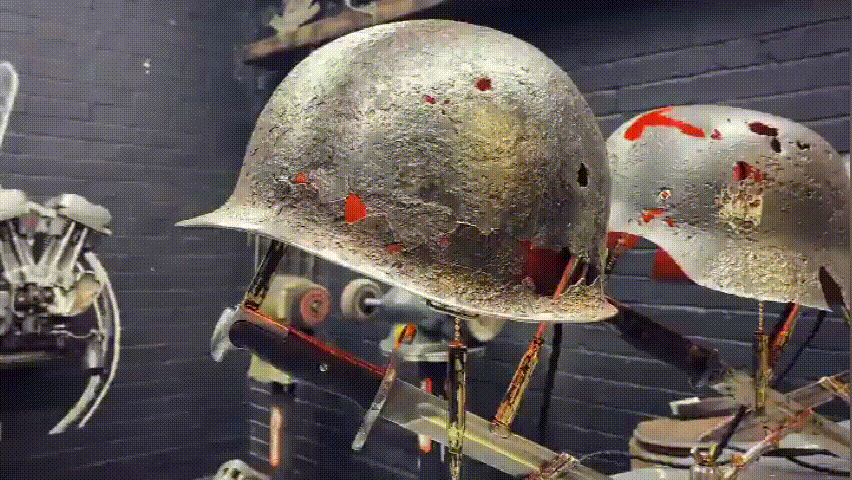 Each lamp is made of resin restoration of World War II helmet, bayonet and bullets. You can find their number on the helmet. I spent three years recycling these helmets and bayonets, and I traveled all over Europe. The bullet holes and rust on the helmet are traces of World War II. These helmets bear witness to that cruel history.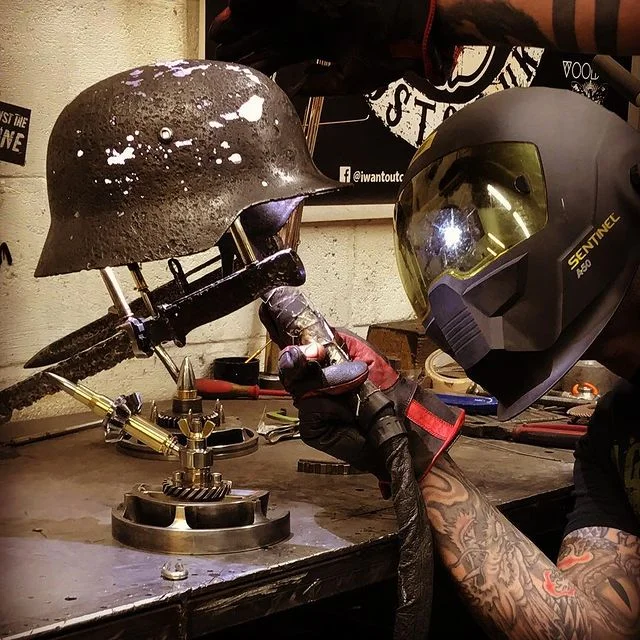 This is a very meaningful work of art,World War II was a global war that lasted from 1939 to 1945.Some 60 million people died in the war, including about 20 million military personnel and 40 million civilians.Many of the civilians died because of deliberate genocide, massacres, mass bombings, disease, and starvation.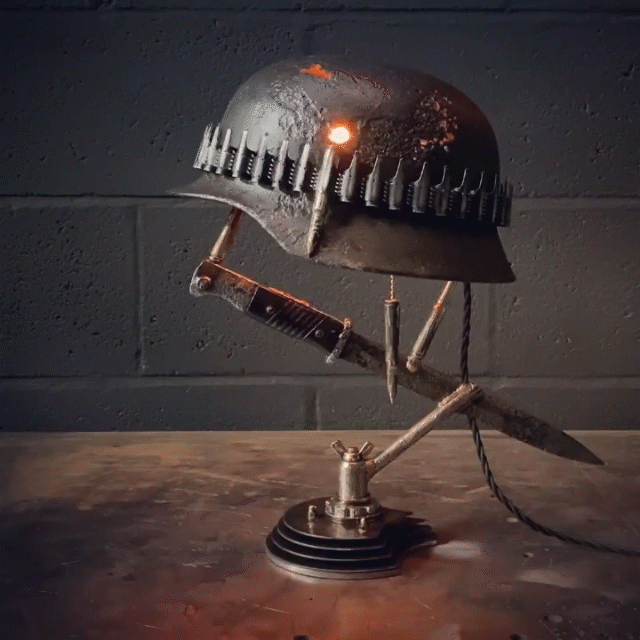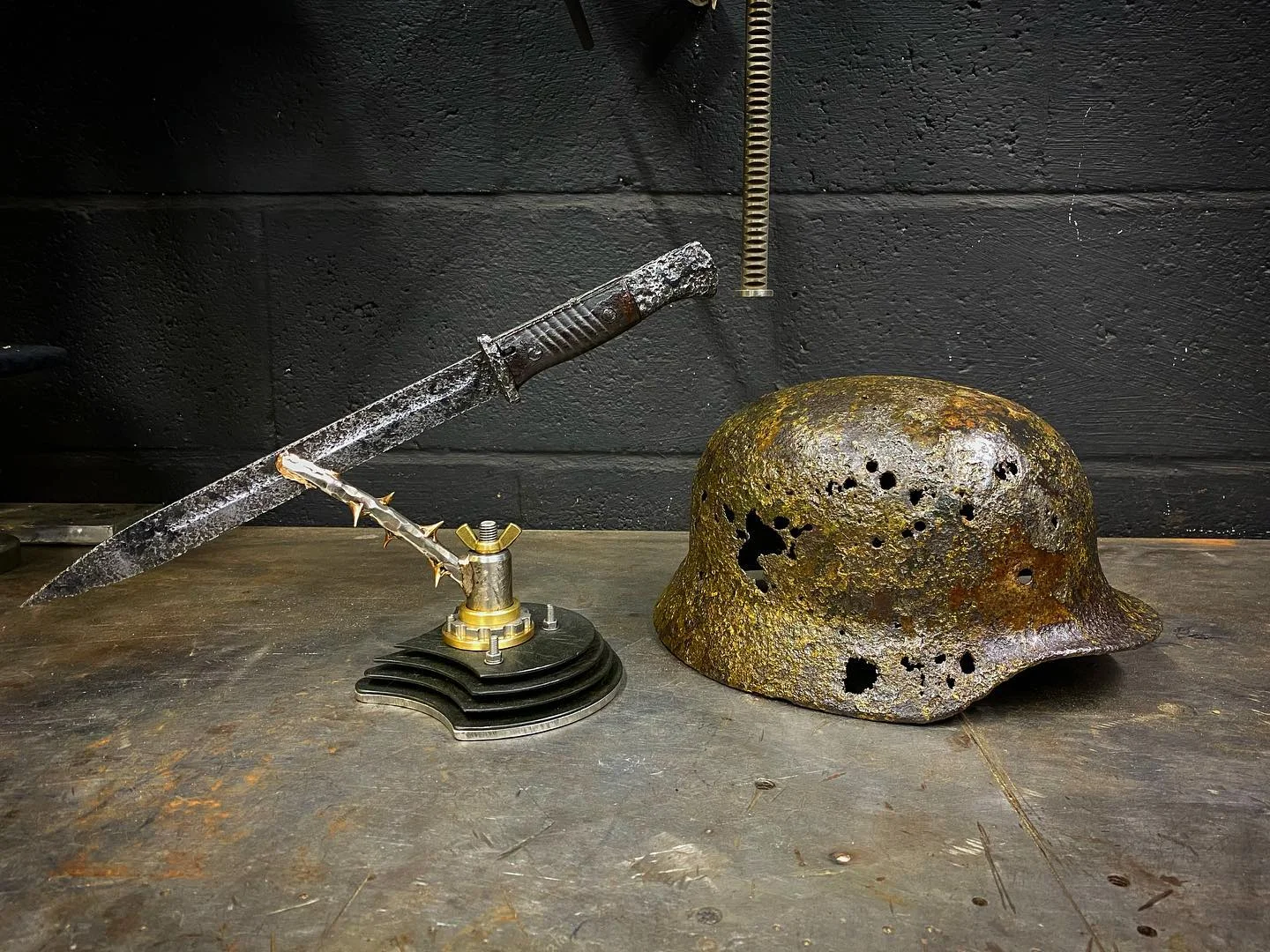 Therefore, we developed this World War II relic light to commemorate and remember that terrible history,In memory of all those who lost their lives in that war!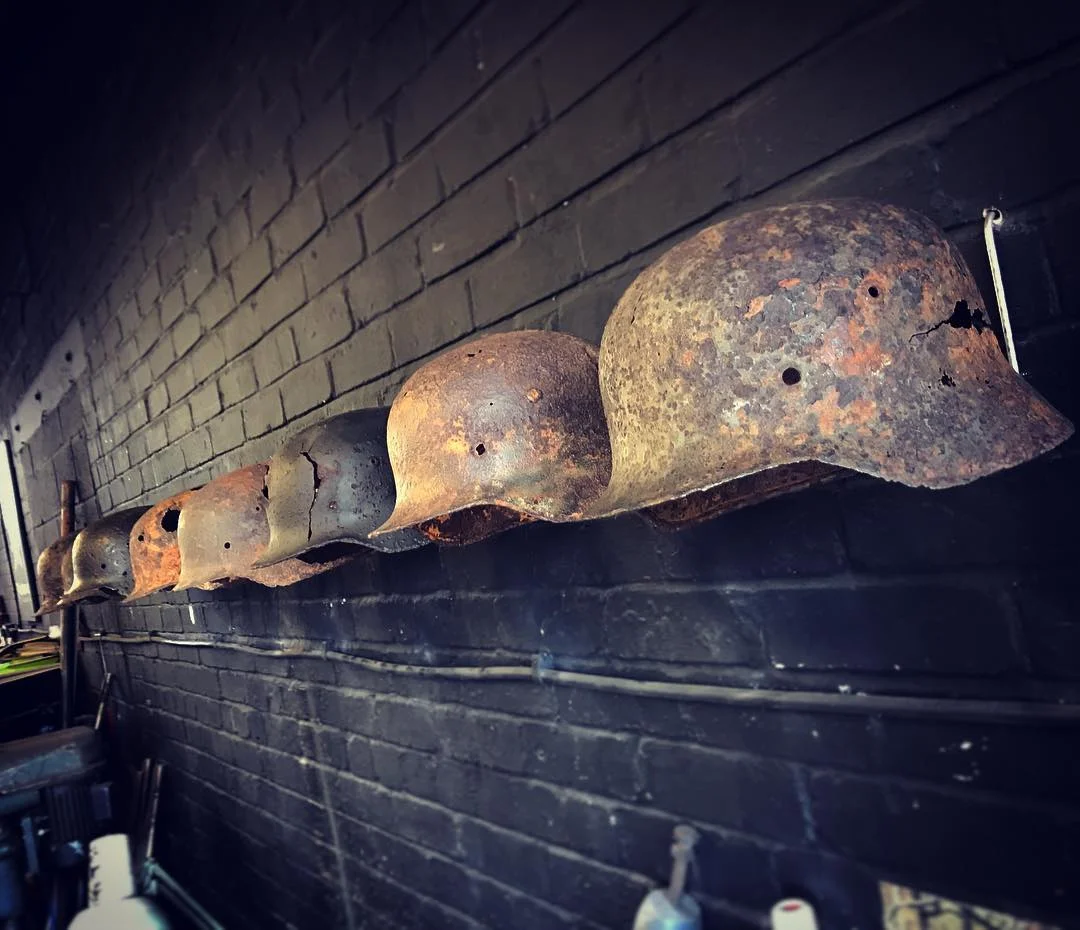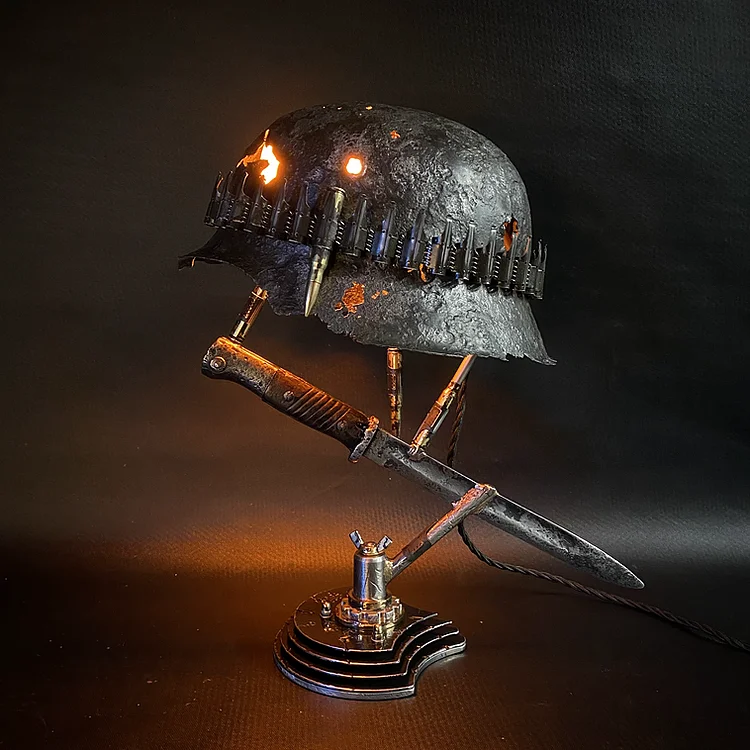 Battle Lamp-1
The lamp is made from genuine WW2 Battle relics.
The Helmet is a German M1942 and was recovered from the 1944 Narva battlefield in Estonia. The helmet has lots of battle damage but is still solid, i've stabalised the crack on the side with very small welds (see last photo) the welds are covered by the bullet belt so cant be seen.
The bayonet is a German K98 recovered from Berlin Lamp is fitted with a 3 mode flame effect LED bulb, there's a video on the home page showing the flame effect.
The lamp has been professionaly wired and has passed a UK PAT electrical safety test.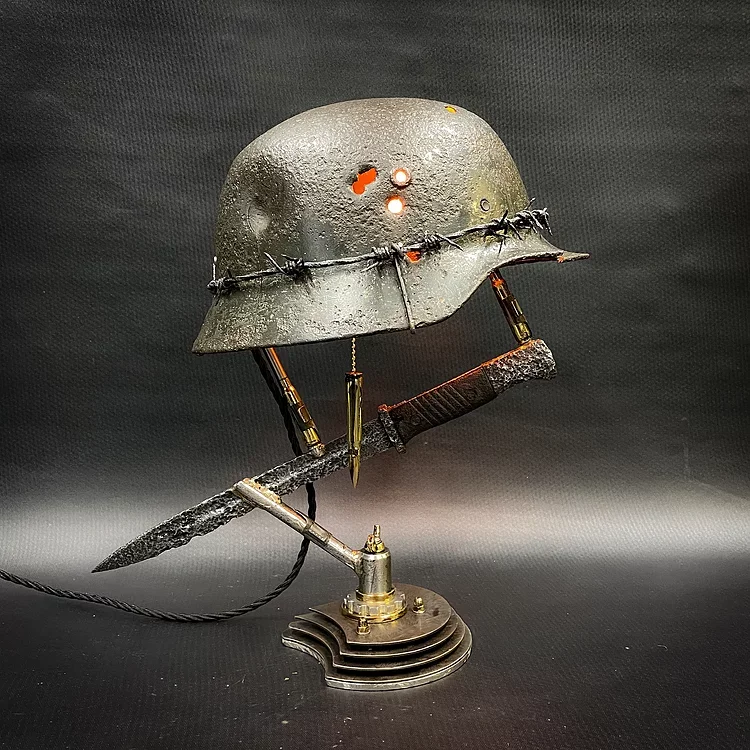 Battle Lamp-2
The lamp is made from genuine WW2 Battle relics.
The German M1940 helmet was recovered from Stalingrad, the helmet has lots of paint remaining including small amounts of white which suggests this was once painted winter camo.
The helmet has significant battle damage and has multiple bullets holes, the team that recovered this said that spent rounds from a Russian Mosin-Nagant rifle were found close by.
The barbed wire is German WW2 and was recovered from the Netherlands.
The bayonet with Bakelite grips still intact is a German k98 which was recovered from Germany.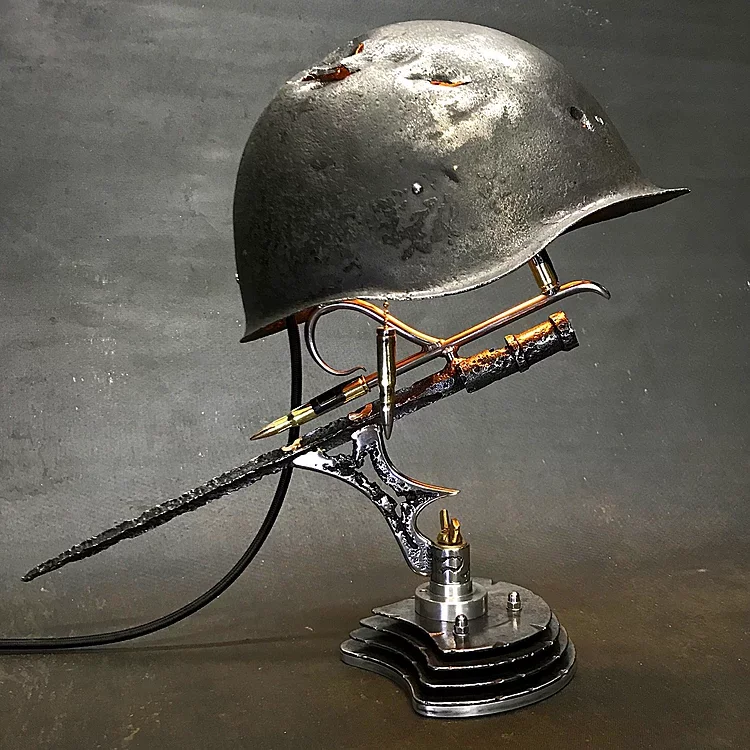 Battle Lamp-3
Made using a genuine WW2 Soviet helmet and bayonet recovered from WW2 battlefields in Eastern Europe.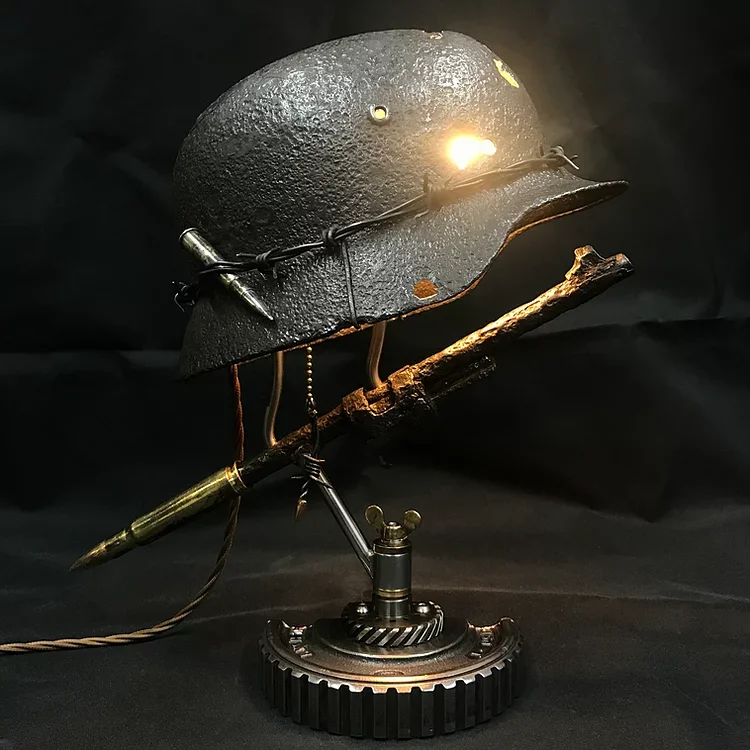 BATTLE LAMP-4
Made from genuine battle relics
German WW2 helmet from the battle of Stalingrad and part of a WW1 German Mauser from the battle of the Somme.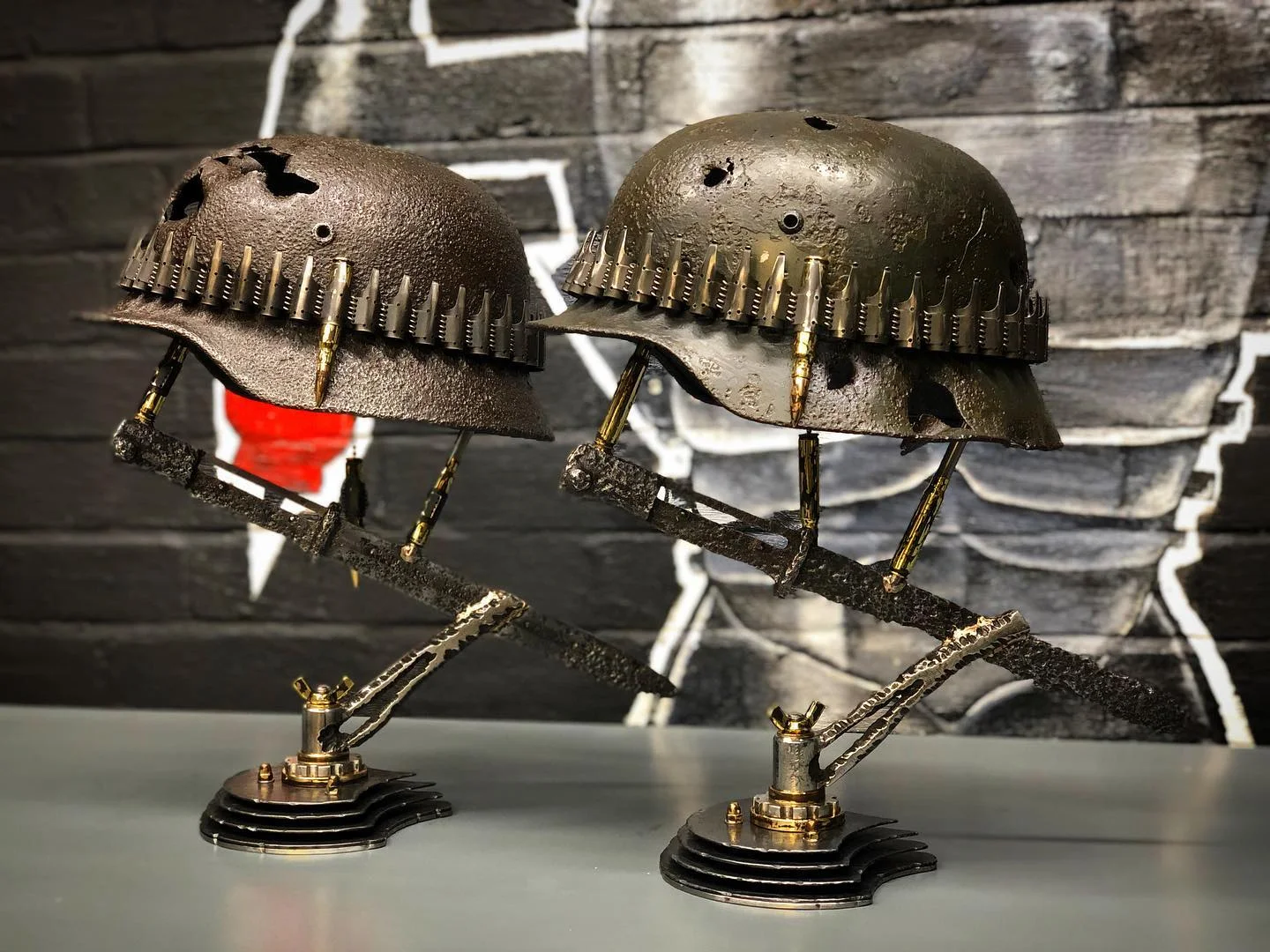 Our estimated delivery date depends on several factors, including the destination address, the shipping method you choose, and how quickly we assemble and prepare the items for delivery. You can calculate the delivery estimate by calculating the processing time of the order and adding the delivery time based on the delivery method you choose.
For example, if you order a piece of clothing, it will take 3-7 working days for processing, and if you choose "Super Saver Shipping", it will take 7-15 working days for processing. Therefore, you can expect to receive it within 10 to 15 working days. (*Different items have different processing times. You can check the processing time from the product page. After placing an order, you can check the order shipping information from the online order status page. We will also notify you via your registered email.)
Transport information
We attach great importance to ensuring that items are delivered to customers as soon as possible. You will receive your order within 10-15 working days from the date of placing the order.
verification
After the order is authorized and verified, a confirmation email will be sent to you. After confirming the order, we will immediately start preparing your order. Within this time frame, it is difficult for us to change or cancel your order, but we will try our best to support your request.
transport
We provide one of the following transportation methods: express service.
Order processing: 3-7 days. Order delivery: 7-10 days. The goods you ordered will be delivered to you within 10 to 15 days.
Shipping method and cost
Processing time
After receiving your order, we will conduct quality control inspections and tests to ensure that the quality of the product is guaranteed before shipment. The processing time varies with specific products, and the average processing time is about 3-7 days; however, it may also be affected by the inventory status of the material. Please note that this does not include holidays and weekends.
We do need more time to process pre-ordered items, please refer to our campaign/product page for more details.
Special situation reminder
Due to the severe situation of the global COVID-19 epidemic and the suspension of most flights, the cargo volume of major routes has been greatly reduced. The control measures adopted by various countries will directly affect production capacity, freight, processing speed and delivery time. The specific impact of time varies from country to country. Please wait another 10-20 days after the estimated time of arrival.
Precaution:
In most countries/regions, our customers do not need to pay import fees, customs duties or value-added tax (VAT). However, for some restricted countries/regions, you may be required to pay customs duties or value-added tax according to the collection rules of your country/region.
If you have any other questions, please contact our customer service
How long is your shipping time?
It depends on where you are. The time for shipping to the United States is about 10-15 working days, and the time for shipping to other regions is about 15-25 working days.
To track your order, please visit
https://www.17track.net/cn
Enter your tracking number, and you can track your order.
What is my tracking number?
After delivery, the customer will receive a delivery confirmation email with a confirmation number.
What is the status of my order?
The customer will receive a confirmation email to prove that we have confirmed your order. It usually takes 3 to 7 days for processing before it can be shipped. After delivery, the customer will receive a delivery confirmation email with a confirmation number. To track your order, please visit https://www.17track.net/cn
Enter your tracking number, and you can track your order.
I have not received any confirmation emails.
For this, please send an email to [email protected]
Please specify your invoice ID, and we will check for you.
I want to return or refund!
For returns or refunds, please read our return policy first.
If you insist, please send an email to [email protected]
Please specify your invoice ID, and we will process it for you.
Which payment method can I use
Pay directly via PayPal balance
Credit cards through Paypal: currently only applicable to credit cards of American customers through Paypal (Visa, MasterCard, Discover, American Express, etc.)
How to open the green has a peculiar smell

Our products are made on the same day and shipped according to your order. Because they are closed during transportation, it is recommended to dry them outside when they are shipped. The taste will disappear by itself.
How can there be grass debris on the green.

Golf greens leave grass residue during the production process. We will clean them before shipment. It is recommended to use the brush again after receipt.
Is the golf green uneven?

The greens are rolled up when shipped for easy transportation. After you get the goods, put them on for about a day to restore the leveling.